Pool Safety Enclosures and Pool Fencing Restrictions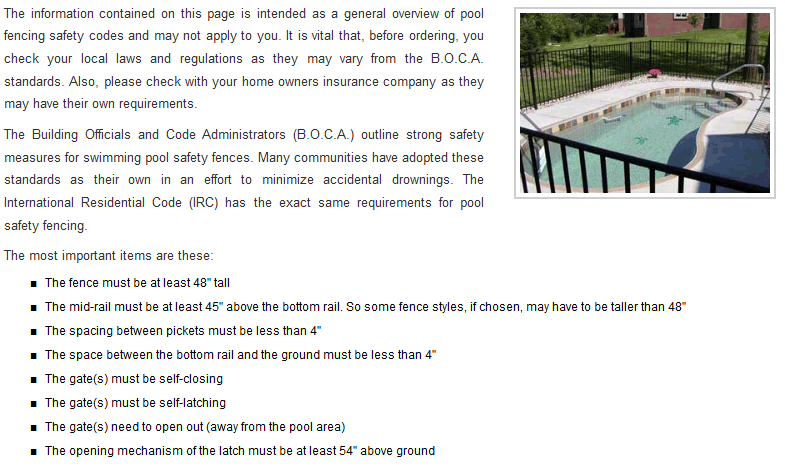 48″ High BOCA Code Pool Fences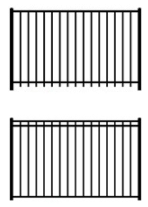 F-Signature 2 Channel Pool Code Fencing
A simple yet elegant design that blends in beautifully with the surroundings and at the same time meets pool codes at 4′. The lower channel is 2 7/8″ above the bottom of the pickets.
F-Signature 3 Channel Pool Code Fencing
A popular style for customers with pools who like the 3-rail design but do not want a fence taller 4′. This fence consists of three horizontal rails. One inch of space exists between the bottom of the top rail and the top and intermediate rail. The lower rail is placed snugly at ground level, consequently eliminating the need to cut the grass in between pickets.
Available styles vary based on pool codes in your area. Satisfying BOCA requirements, both the F-Signature 2 Channel pool code and F-Signature 3 Channel pool code fence lines offer security and safety. On these two pool code styles of fence, the space between the bottom channel and the next channel up meet or exceed the 45″ BOCA requirement. Keep in mind the F-Signature 2 Channel Pool code and F-Signature 3 Channel Pool code fence styles need a "Top-Pull" Magna-latch™ gate lock and Tru-Close™ hinges to satisfy BOCA requirements. Using the appropriate safety gate hardware, every other style of Elegant aluminum fence, above 48″ in height, meets or exceeds BOCA code restrictions. Gate hardware requirements for standard Elegant fence styles higher than 48″ can use either the Top-Pull Magna-Latch™, Vertical-Pull Magna-Latch™, or the Lokk-Latch™ gate lock systems. Tru-Close™ gate hinges meet the BOCA safety and security requirements, because, the Tru-Close™ hinge system is self-closing and self-latching.
Please check local pool enclosure codes in your area, because, they may vary from each location.
For a completely free estimate, no-obligation, call our offices, (469) 446-3610, or contact our sales department through our online request form.